THE
Kitchel Lightweight Glove
Light and durable. The Kitchel Lightweight Glove was designed to have terrific feel on the controls, offer protection when you need it, and literally disappear the rest of the time.
Made Just For You
Greet the Elements
Our new cuff design features a v-shaped stretch gusset which allows for easier donning and doffing, and allows for better wrist articulation and comfort while in the grip position.
Additional Details
High quality synthetic with hypersensitive touch screen capability
Lightweight without sacrificing durability
Comfortable and flexible neoprene wrist
V-shaped stretch gusset on the cuff for easier donning and doffing
Mesh fourchettes (the panels between the fingers) add airflow and ventilation while increasing flexibility
Stretch knit over knuckles for cooling and comfort
Designed with minimal seams in the fingertips for better sensitivity
Extra pad on outer palm for optimal comfort/confidence when you need it
Imported (Vietnam)
IF YOU CRASH YOUR BIKE AND TRASH YOUR KITSBOW, OUR CRASH POLICY KICKS IN
Contact us. We'll probably ask you to ship it to us, but talk to us first. If we can't repair it, we'll find a way to get you back on the bike at a nominal cost.
LIFETIME WARRANTY
If your Kitsbow fails due to a manufacturing flaw, we will fix it or replace it. Of course, this does NOT include damage from normal wear and tear (or flaws you consider a mistake in the design). Contact us to start the process.
REPAIRS
Now if your dog ate your Kitsbow, don't stress. We offer repair services, so get in touch and we'll help you start the process.
RE-USE AND RECYCLE
If you're done with your Kitsbow, because it doesn't fit any more, because you don't ride any more, or really for any reason -- then we strongly recommend you move it on to its Forever Home via Experienced Apparel, where you can sell Kitsbow for cash or Kitsbow.com store credit.
Kitchel Lightweight Glove |Size Guide (cm)
Size
XS
S
M
L
XL
XXL
Finger Length
11.5-12.3
12.3-13.0
13.0-13.8
13.8-14.5
14.5-15.2
15.2-15.9
Palm Width
5.8-6.5
6.5-7.5
7.5-8.5
8.5-9.8
9.8-11.0
11.0-12.2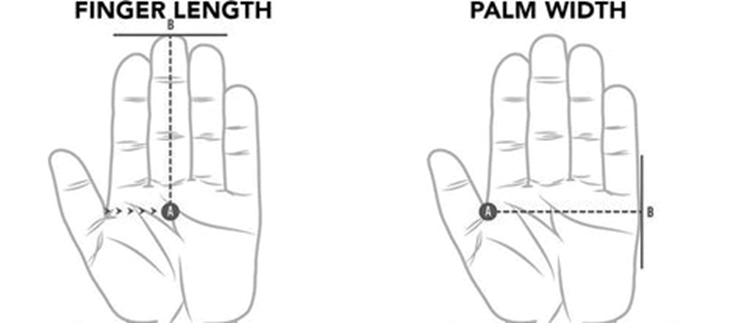 The Kitchel's fit is designed to be snug and non-binding. If you prefer a tighter fitting glove: for optimal durability we recommend sizing in your traditional glove fit instead of sizing down.
If you have any questions about sizing and fit of the Kitchel Lightweight Glove be sure to review the size chart or contact us at info@kitsbow.com