One Size Fits Most
Kitsbow K logo on brim
50% Wool, 50% Acrylic
Sewn in the USA
CRASH POLICY
Our crew often rides hard and we are here for you when things go awry. If you crash and trash your Kitsbow, get in touch with us.
Reviews
Customer Reviews
Write a Review
Ask a Question
01/31/2020
Kevin
United States
Pictures are inaccurate.
Nice cozy hat, but it looks nothing like the hat in all the pictures online. I like Kitsbow, but disappointed with how much different this hat is from what I saw online. There is no ribbed texture on the real hat I got that you see in the shopping photos. Still a nice Toque, but I feel a little misled which is why it gets 3 stars.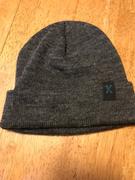 01/21/2020
Anonymous
United States
My favorite beanie
I haven't always had nice things in my lifetime. It's pretty awesome to not only have a deeper appreciation these days, but to also get lots of surprise experiences in the little things. The Gronk is the best beanie I have ever owned. Full disclosure - I work at Kitsbow - and I couldnt be happier! I love this clothing, and the values that the company upholds. I will be a customer for a long time to come
12/03/2019
Anonymous
United States
Does what is should
Great hat that keeps me warm.
Great stocking cap
Pictures are deceiving. Looks like it's going to have a point on top. It doesn't, thank god. Great color and great fit as usual for Kitsbow. Highly recommended even with the price.
Lovin' the Gronk !
Nicely made, warm and classy in a simple way. Fits my melon just right,Doesn't itch and is easy to wear for extended periods of time. I like the way the little logo "pops" on this piece. So take a Toque and enjoy !