THEx
Madrone Short - Gunmetal Grey
Made Just For You
IF YOU CRASH YOUR BIKE AND TRASH YOUR KITSBOW, OUR CRASH POLICY KICKS IN
Contact us. We'll probably ask you to ship it to us, but talk to us first. If we can't repair it, we'll find a way to get you back on the bike at a nominal cost.
LIFETIME WARRANTY
If your Kitsbow fails due to a manufacturing flaw, we will fix it or replace it. Of course, this does NOT include damage from normal wear and tear (or flaws you consider a mistake in the design). Contact us to start the process.
REPAIRS
Now if your dog ate your Kitsbow, don't stress. We offer repair services, so get in touch and we'll help you start the process.
RE-USE AND RECYCLE
If you're done with your Kitsbow, because it doesn't fit any more, because you don't ride any more, or really for any reason -- then we strongly recommend you move it on to its Forever Home via Experienced Apparel, where you can sell Kitsbow for cash or Kitsbow.com store credit.
Reviews
Customer Reviews
Write a Review
Ask a Question
Filter Reviews:
Kitsbow
size
shorts
body
pockets
mind
bunch
location
length
attention
01/21/2023
Jacob F.

United States
These shorts made me a gift giving superstar!
I bought these shorts in gunmetal grey for a good friend of mine. She's super active and outdoorsy (as in she takes 2 month long canoe trips). She appreciates well-made things and is unlikely to buy them for herself. I have a bunch of Kitsbow gear myself, so I know how much care and attention they put into fit and function. I was pretty sure my friend would love them and Kitsbow didn't disappoint. Not only did she think the shorts were beautiful, she was absolutely blown away by the fit. She was a little unsure of whether to get size 28 or 30 and opted for the 28. She said they felt like they were made especially for her.They made her realize that she's never actually had a pair of shorts that fit before and that there is a huge difference between clothes that are designed with her body in mind and those that aren't. Thank you Kitsbow!
06/17/2022
Anonymous

United States
Perfection in a short
These shorts are amazing. The fabric, the fit, the pockets - they're all stellar. First the fabric: It's stretchy but doesn't bag out. It's soft but durable. (Multiple brushes with thorn bushes haven't phased it yet.) Second the fit: I considered my previous shorts (from a different company) to be comfortable and fit well. These shorts set a new bar. There is no place that pulls and nothing that binds. Additionally, the belt loops are excellent but these shorts are so well designed that there is no awkward and annoying gap at the back waist. That is amazing. Wearing a belt is now a choice instead of a requirement! The body of the shorts is loose but not baggy, and the length is great (For reference: 5'6", 130 lbs, size 28, 11" inseam shorts hit me at upper knee / lower thigh length). Third, the pockets: Their size and location is excellent. There are two pockets on these shorts - one on each side in the outer butt area. At first I thought that was an odd choice, but they are really useful there. The pockets are large enough to hold a smart phone and, because the pockets are offset, whatever is in the pockets doesn't jab you or get in the way when biking, running, or just sitting. Also, the Kitsbow customer service team was really helpful in suggesting which size to get. Their recommendation was spot on so no having to order multiple sizes to figure out which fit.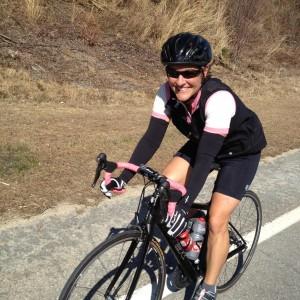 JC
05/26/2022
Jennifer C.

United States
Madrone Short is the perfect travel partner for gravel riding in Girona Spain
I am 5'4" and weigh 127 lbs. I purchased the Madrone Short in both lengths (7" and 11") with waist size 28". Note that the fabric is stretchy, so measure your waist and then size down rather than sizing up. My shorts were delivered to me just in time to be added to my suitcase before traveling to Girona Spain in May 2022. The weather in Girona was a little warmer than typical for May with temps reaching the mid-to-high 80s most days. The 7" short was perfect for nearly every portion of the trip including walking around in the Barri Vell (old town) to visit La Fabrica for delicious pre-ride breakie or post-ride salad. The gravel riding options in and around Girona are overwhelming and the 11" short worked perfectly coupled with the Tsali cycling liner. The liner doesn't peak out from under the short (a pet peeve of mine) and the short FITS me. That's right...the length looks appropriate for my height and that's a really big deal. Compared to my Rapha trail shorts, which are comfortable, but are so long that they look like hand-me-downs from my older sister after she joined the Women's Basketball Association. The tailored style and fit combine to provide a short that makes me feel comfortable on the bike and walking into a monastery or museum. (Not-so-humble brag...I climbed Mare de Déu del Mont and it was epic). Now that the vacay is over, my Madrones will be tested on some MTB trails and I expect them to perform well based on my gravel riding experiences. And some testing at local breweries will be necessary as well. The Madrone Short takes you to a wide variety of places in style and comfort.