Strategically-placed Italian Miti® mesh panels to circulate airflow where you need it most
Fabric actively wicks moisture to keep you dry
Built-in Cytech® minimalist chamois will keep your bum happy and chafe-free
Silicone elastic leg grippers keep your shorts where you want them
Sewn-in drying hook for easy wash and dry
7 panel construction for optimal fit while in riding position
Compression supports faster, more effective recovery
Sewn in the USA
SIZECHART - VENTILATED CYCLING LINER
| | | | | | | |
| --- | --- | --- | --- | --- | --- | --- |
| INCHES | | | | | | |
| | XS | S | M | L | XL | XXL |
| Waist | 27-28 | 28-29 | 30-31 | 32-34 | 35-36 | 36-37 |
| CENTIMETERS | | | | | | |
| | XS | S | M | L | XL | XXL |
| Waist | 69-71 | 71-73 | 76-78 | 81-86 | 89-91 | 91-94 |
NOTE: THESE ARE GARMENT DIMENSIONS. I.E. A SIZE 32 SHORT'S WAIST IS 32" IN CIRCUMFERENCE. FIT IS SUBJECTIVE.

* GARMENT FIT IS ON THE SMALLER SIDE, IF IN DOUBT SIZE UP.
** SHERPA 1 SAYS: I am 5'8" and weigh 135lbs with a 28-29 in. waist, the XS fits perfect.
** SHERPA 2 SAYS: I am 6' and weigh 165lbs with a 29-30 in. waist, the Medium fits perfect (slightly slim).
** SHERPA 3 SAYS: I am 6'4'' and weigh 220lbs with a 35-36 in. waist, the XL fits perfect. 
CRASH POLICY
Our tribe often rides hard and we are here for you when things go awry. If you crash and trash your Kitsbow, get in touch with us.
Reviews
Customer Reviews
Write a Review
Ask a Question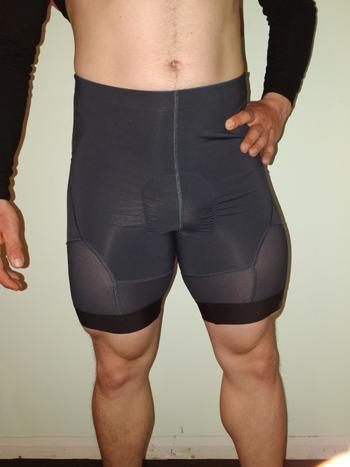 03/20/2019
Fit For a King
I purchased this cycling liner with the specific intention of testing it out during my LandRun100 Race. The excellent quality of the garment matches the quality of the customer service that I received when I needed to make a last minute size exchange. Thanks Glyn!! For me the sizing on this liner ran extremely small. I'm 5'7" have a 33" waist and weigh about 175lbs. I normally wear a medium in compression short and every once in a while a large. I ended up having to get an XXL. Due to the large size and my short height it leaves me with somewhat of a "control top" for the liner. Because of the comfort and quality of the overall product however this did not pose a single problem while pedaling through 100+ miles of Oklahoma's finest gravel!! If you need a size model for the short stalky types, I'd gladly volunteer my services. Regarding future purchases, I think I'll have to call for exact measurements of each garment in order to ensure proper fit! All in all I'm very satisfied with my purchase and the service I have received. I will definitely be making future purchases and spreading the Kitsbow word!!!
03/30/2020
Sizing???
I've only done a few rides in them but I think the sizing is tricky... I'm 5'8 (173cm) and weigh approx 165lbs (75kg) and I chose size Medium. They are very very snug... The quality of the material and the workmanship seems great but too soon to tell.
Anonymous
Canada
01/23/2020
The Basics Done Right
With all the great looking trail-to-table Kitsbow gear, you might overlook how well they execute the basics, too. This liner is, plainly and simply, an exceptionally well built staple for the bike. The ventilated mesh provides airflow without sacrificing compression and support. The chamois is comfy. An absolute must-have for long summer rides (or, here in the winter, long trainer rides in a ****** basement). As some have noted, the fit is a bit small. It's just slightly trimmer than my origin liner of the same size. Size up if you are between sizes.
Jordan B.
United States
10/14/2019
Worth it!
I debated buying a PI liner for $50 vs these...after comparing the two, these are worth it. Kitsbow customer service is awesome too! Note - kitsbow says that "an inch is an inch" when it comes to sizing. My waist measures 2-3 inches larger than the pants I usually wear (33). I usually wear a large and that what worked here too.
Dan T.
United States
09/23/2019
Small
I am a size 35-36 waist, my legs are not monstrous, I could not fit in the XL, I bought the XXL. These things are TIGHT. Granted they are super comfortable. I completed a 32 miles mtn bike ride and didn't notice them, which is perfect.
Chris N.
United States