Kitsbow Face Mask, Reusable, HEPA Type
Front Line Worker Discount
Front Line Workers and Veterans click here to receive a 20% discount.

The Kitsbow Face Mask is an all-day comfort face mask designed specifically for users that work many hours, and don't want to add to environmental waste by disposing of their mask after each use. Instead, you wash it and use it again.

Sewn in Old Fort, NC USA of domestic and imported material.
This product is not a surgical mask or a FFR (filtering facepiece respirator), and we do not make any particular claims of particulate filtration or antimicrobial protection. This face mask should not be used in any surgical setting, or where significant exposure to liquid, bodily or other hazardous fluids may be expected. It should not be worn in the presence of a high-intensity heat source or flammable gas. The FDA has confirmed it does not object to the distribution and sale of face masks of this type (
FDA Enforcement Poicy for Face Masks and Respiratiors During the Coronavirus Disease
, Revised, April 2020).

Kitsbow is pursuing FDA authorization for this face mask.

No Kitsbow PPE can be returned for a refund or exchange. For obvious reasons, PPE can only be used by the original purchaser. Kitsbow makes no claims and offers no warranty for PPE.

Please review our Terms & Conditions.

If you are interested in purchasing a bulk purchase exceeding 240 units, please contact ppe@kitsbow.com. Our team will work directly with you for ordering, volume discounts, invoicing, and shipping arrangements.
Full coverage
Breathable air pocket (for low threat / high exertion leave the filter out)
Home wash & hot dry (between each use)
Filter pocket with 2 replaceable HEPA-type filters included (use only one at a time)
3 sizes
SIZE CHART KITSBOW FACE MASK, REUSABLE, HEPA TYPE
| | | | |
| --- | --- | --- | --- |
| INCHES | | | |
| | S | M | L/XL |
| Height | 6 3/4" | 7 1/8" | 7 7/8" |
| Width | 9 3/4" | 10 1/2" | 11" |
The width of the mask is measured at the widest part of face, over tip of nose. The height of mask is measured at center front, top to bottom.
A size chart visual can be found on the product page image carousel.
CRASH POLICY
Our tribe often rides hard and we are here for you when things go awry. If you crash and trash your Kitsbow, get in touch with us.
Reviews
Customer Reviews
Write a Review
Ask a Question
08/04/2020
Best sealing mask I've found, but not under the eyes, N95 layer is extra work
I like this mask better than the others I've tried. SEAL It seals better, but not perfectly. The area under my eyes still vents breath up under my glasses, and allows outside air in through the gap. I can stop it with a couple of fingers pressing the mask down just below each eye, but that's not really a good solution. I modified it to tighten up the straps a lot, and that helped. With very tight straps, I can mouth breathe through the N95 layer no hands. Unfortunately, augmenting the seal with one finger under each eye is the only way I can breathe through my nose without losing the seal. MAINTENANCE Washing the mask isn't too bad, I do it with liquid soap by hand, and line dry, but putting the N95 layer back in place is tricky; although it's getting easier with practice. I would recommend labeling the N95 fabric on one side when you receive it, to help avoid reversing the orientation. Since this layer can't be washed or disinfected, accidentally putting the formerly outside facing side toward the inside would be a bad idea. Also, I hope the nose wire is very resilient. I try to minimize the amount of bending, but, it's not practically possible to maintain the shape of the nose wire while turning the mask inside out, as I must do each time I put the N95 layer back in. SIZING I measured my face according to the directions. I was in the top end of the small range so that's what I ordered. I later got a medium and it fits much better, although the straps are even looser and needed a bigger modification to tighten them up. How about a catch on the straps so they don't need to be pushed up over the head? I frequently wear my helmet into stores and putting the mask on over it isn't easy.
Scott M.
United States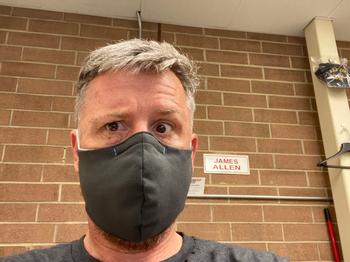 06/10/2020
I'd only change one thing...
It fits my face perfectly and I receive compliments on it... which is telling in these weird times. The only thing that I'd change is the strap type from being over the top and back of the head to behind the ears. If you only need the mask when entering public facing establishments, donning and doffing it over the head with glasses becomes... cumbersome. I followed these masks from the moment Kitsbow announced they were pivoting to make them and of course wanted one of my own. I waited until the rush to fill the first responders and frontline workers was filled, then ordered my own. The lower strap isn't really snug, though I even bought one size down from what was recommended and the top strap can be a little tight over my head. I guess I had gotten so accustomed to wearing the disposable masks with ear loops that this one took some fit fiddling and adjustment.
JA
James A.
United States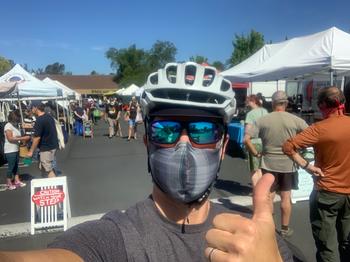 06/04/2020
Kitsbow Quality. Kitsbow Design. So So Good.
This is the only PPE mask I wear now.The materials are top notch. The fit is excellent. The nose bridge is fantastic and doesn't fog up my glasses like so many other cheaper PPE options. And straps are all-day comfortable! Leave it to Kitsbow to create the best gear even in times of absolute chaos.
Jeremiah K.
United States
08/03/2020
Well made with good fit, INSTRUCTIONS ON HOW TO INSERT FILTER
This is an excellent mask, well-made, comfortable and attractive. The nose clip is comfortable and works well. The filter is a bit hard to insert, but after trying a few different ways, here is how to get it in: Grip the far end of the filter between your thumb and index finger, insert the filter a little way into the mask, then with your other hand, pull mask over filter until the far end of the filter is at the end of the mask. The mask will be bunched up. Remove your hand from inside the mask and grip the mask and filter at the far end from outside. Then pull the mask back over the filter. Putting the mask over the filter, rather than trying to insert the filter into the mask is the easiest way to get it in.
David H.
United States
08/02/2020
What I think of the mask
Comfortable. Would prefer ear loops As an option as it is a pain in the a.. to get on and off with a hat or cap on. I like the layers for safety but can't get the HEPPA filter to sit properly and thus I am concerned that I am being protected and protecting others. Company emailed advice to turn mask inside out, didn't work. How about a slot on each side or one on top to insert the filter?
Leonard B.
United States
Yep, frustrating getting that filter back in... we've all been there. Leaving it out, you're protecting others (two layers of fabric will keep the virus, if you have it, from landing on them). Putting it in, you're protecting yourself from others. Then you've got to perfect the inside-out technique. We haven't found a better design yet, but we're working on it!