Kitsbow Face Mask, Reusable, HEPA Type
Front Line Worker Discount
Front Line Workers and Veterans click here to receive a 20% discount.

The Kitsbow Face Mask is an all-day comfort face mask designed specifically for users that work many hours, and don't want to add to environmental waste by disposing of their mask after each use. Instead, you wash it and use it again.

Sewn in Old Fort, NC USA of domestic and imported material.
This product is not a surgical mask or a FFR (filtering facepiece respirator), and we do not make any particular claims of particulate filtration or antimicrobial protection. This face mask should not be used in any surgical setting, or where significant exposure to liquid, bodily or other hazardous fluids may be expected. It should not be worn in the presence of a high-intensity heat source or flammable gas. The FDA has confirmed it does not object to the distribution and sale of face masks of this type (
FDA Enforcement Poicy for Face Masks and Respiratiors During the Coronavirus Disease
, Revised, April 2020).

Kitsbow is pursuing FDA authorization for this face mask.

No Kitsbow PPE can be returned for a refund or exchange. For obvious reasons, PPE can only be used by the original purchaser. Kitsbow makes no claims and offers no warranty for PPE.

Please review our Terms & Conditions.

If you are interested in purchasing a bulk purchase exceeding 240 units, please contact ppe@kitsbow.com. Our team will work directly with you for ordering, volume discounts, invoicing, and shipping arrangements.
Full coverage
Breathable air pocket (for low threat / high exertion leave the filter out)
Reusable

Filter pocket with 2 replaceable HEPA-type filters included (use only one at a time)
3 sizes
Adjustable Nose Piece
SIZE CHART KITSBOW FACE MASK, REUSABLE, HEPA TYPE
INCHES
S
M
L/XL
Height
5 3/4"
6 1/2"
7 1/4"
Width
9 1/4"
10"

10 3

/4

"
The width of the mask is measured at the widest part of face, over tip of nose. The height of mask is measured at center front, top to bottom.
A size chart visual can be found on the product page image carousel.
CRASH POLICY
Our crew often rides hard and we are here for you when things go awry. If you crash and trash your Kitsbow, get in touch with us.
Reviews
Customer Reviews
Write a Review
Ask a Question
Filter Reviews:
Kitsbow
masks
ears
filters
head
place
ride
journey
purchase
hearing aids
11/21/2020
Anonymous
United States
Best cloth mask I've tried!
My Medium Kitsbow masks fit my face better than other masks I've tried (and we've tried many). I especially like that it takes a filter and that the elastics go around my head, not behind the ears. I wear hearing aids, so behind-the-ear masks don't work, since they pull out my hearing aids.
11/18/2020
Anonymous
United States
They truly put both the customer AND service into their customer service!
The Kitsbow masks came highly recommended to us, so we made a short journey to their store/cycling center at the Old Fort Ride House. Once there, we were surprised at the facility and the great staff there assisting us and others. What a great place to stop off before or during a ride or to pick up some first class cycling apparel. In our case, we were looking for some first class PPE. Everyone there had a great attitude from the first greeting at the door, through helping us choose the masks, filters and face shields we wanted. When we had a special accommodation, they literally (well, maybe not literally, but...) bent over backwards to make sure we were completely satisfied with our experience there. It was way more than we expected for a relatively small purchase (for us it was still an important purchase). I can only imagine how they might serve their real focus- serious cyclists needing exceptional clothing. As long as PPE is our "new normal" the Kitsbow line of masks and shields is an excellent choice. Regardless of what you may need, if they can supply it, you will not be disappointed. They won't let you.
11/18/2020
Grant G.
United States
Best mask you can buy
This is the only mask I will wear, the fit is perfect and I love the fact that it does not slide down or dig into my ears.
11/09/2020
@lutacris
United States
FINALLY a Well Made, Great Fitting PPE Mask!
I Purchased my first Kitsbow Face Mask last month. Determining my size was easy. The online order process was easy. I had a couple of questions and Customer Service was an excellent help. The mask came as described and quickly. It fits great. I feel well protected. I do a lot of cycling and this mask is perfect. I just ordered two more, one of the new Wake and an additional one of the original face mask. I have tried nine different brands and none of them have worked as well as the Kitsbow mask. Buy one. You won't be disappointed.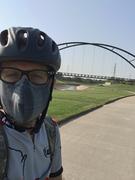 11/02/2020
Anonymous
United States
Great Mask
Most reviews will mention the good quality of material and craftsmanship with which I agree but most important to me is the method of attachment. Any mask with ear loops is a problem for those of us who wear over the ear hearing aids. Kitsbow has solved that problem. Also the mask is easily lowered while eating and doesn't need to be removed and stored.
Thank you for sharing your experience with our mask!