Wake ProTech™ Reusable Face Mask
Front Line Worker Discount
Front Line Workers and Veterans click here to receive a 20% discount.
The Wake ProTech™ Reusable Face Mask adds long-wearing comfort where protection is essential — especially for Front Line workers in critical industries. The easily adjustable straps help to achieve a high-quality fit, especially across the cheek bones — important to minimize fogging of your glasses.

Designed in collaboration with Wake Forest Baptist Health, the Wake ProTech™ by iQ Healthtech™ Reusable Face Mask is designed to be a comfortable, long-wearing, and attractive.
This product is not a surgical mask or a FFR (filtering facepiece respirator), and we do not make any particular claims of particulate filtration or antimicrobial protection. This face mask should not be used in any surgical setting, or where significant exposure to liquid, bodily or other hazardous fluids may be expected. It should not be worn in the presence of a high-intensity heat source or flammable gas. The FDA has confirmed it does not object to the distribution and sale of face masks of this type (FDA Enforcement Poicy for Face Masks and Respiratiors During the Coronavirus Disease, Revised, April 2020).

Kitsbow is pursuing FDA authorization for this face mask.

No Kitsbow PPE can be returned for a refund or exchange. For obvious reasons, PPE can only be used by the original purchaser. Kitsbow makes no claims and offers no warranty for PPE.

Please review our Terms & Conditions.

If you are interested in purchasing a bulk purchase exceeding 240 units, please contact ppe@kitsbow.com. Our team will work directly with you for ordering, volume discounts, invoicing, and shipping arrangements.
This mask consists of four layers, starting with an exterior layer of premium jacquard fabric milled just for Kitsbow here in North Carolina, then two layers of protective filter media (sewn into the mask) and then 100% cotton muslin (also made in the U.S.). In fact every component of this mask is made in the U.S. except for the cordlocks that secure the mask to the user's head.
High quality fit
Structured air pocket
Warm wash / Line dry (between each use)
Filter sewn in
6 sizes
SIZE CHART WAKE PROTECH™ REUSABLE FACE MASK
| | | | | | | |
| --- | --- | --- | --- | --- | --- | --- |
| INCHES | | | | | | |
| | XS | S | M | L | XL | XXL |
| Height | 5 1/2" | 6 1/3" | 6 3/4" | 7 1/2" | 8 1/4" | 9" |
| Width | 8 3/4" | 9 1/2" | 10" | 10 3/4" | 11 3/4" | 12 1/4" |
The width of the mask is measured at the widest part of face, over tip of nose. The height of mask is measured at center front, top to bottom.
The measurements listed are mask measurements, not facial measurements.
This is a structured mask style. We recommend a size up if your measurements are between sizes.
A size chart visual can be found on the product page image carousel.
CRASH POLICY
Our tribe often rides hard and we are here for you when things go awry. If you crash and trash your Kitsbow, get in touch with us.
Reviews
Customer Reviews
Write a Review
Ask a Question
07/02/2020
Wake ProTech Reusable Mask
I ended up getting two of these in the large and 2 in regular. I also have two of the other type you sell. Style wise the white one makes me look like Hannible Lector. The brown one which was less expensive and probably not as protective as the white ones is way more stylish and comfortable . I am a Dentist and fit tested 3M N95 masks and the white kitsbow mask actually passed the test with me so it is very protective . I think the regular size white ones run small and the large ones a little large. I would definitely error on the large size for better protection. Also I find the lace apparatus less comfortable and inconvenient but it will last longer then elastic. Also great they don't loop around the ears. Need to come up with a tie dye one or something for more style though. The Shields are great and very stylish.
Anonymous
United States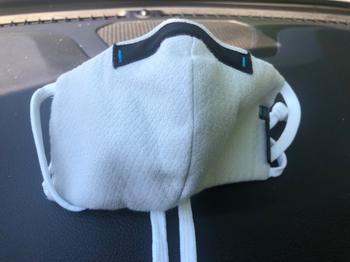 06/13/2020
Comfortable breathable Secured fit
Thank you so much! I love how secure it fits. I got a small and appreciated the sizing guide as many other masks are to big! My glasses did not fog either. Love the adjustable ties so easy! Made in America and high quality and Comfortable! The tracking emails were a nice touch! Thank you sooooooo much!
Kris
United States
06/11/2020
Quality build but terrible execution, disappointed with my first Kitsbow purchase
Avid cyclist (road, mountain, and gravel) and had been eyeing Kitsbow gear for a few months. The shape of the mask I received is terrible because the stitching on one side prevents it from taking its proper form. It seems like the filter material and the inside fabric panel were cut too big and then the edges were sewn together, as they should have been, so there is a permanent crease in the mask on the right side. The alignment of the nose strip is off so it is larger on one side than the other, there is loose fabric on the side of the mask that touches the face. The materials used are of high grade and the drawstring design allows for much more comfortable wear and is my preferred design compared to behind the ear wear. Of the 4 different masks I have purchased (I am a healthcare professional on whom family and friends rely on for guidance as to what masks to purchase so I have purchased many different styles of face masks to try... no I'm not a YouTuber, nor did I apply the frontline 20% discount in an effort to support American business) this is the second one without replaceable filters and were it not for the build quality, I would have given it 1 star due to fitment. I am debating ordering another one on the off chance that I happened to get a bad example of this product due to QC oversight, maybe in a larger size. If I do, I will update this review to reflect my findings. Will not promote another brand's product on this site but for the time being, look elsewhere.
saqib
United States
It sounds like you received a faulty product... what size did you buy in the Wake ProTech? We'll send you a better quality version... and also send you the Kitsbow Mask. Many people find that their faces to not fit both, but one or the other. You can try both and make your own choice.
08/03/2020
Secure
I am very pleased with my purchase. What drew me to the product was the adjustable straps. They do a good job of keeping the mask in place even when talking or moving.
Anonymous
United States
08/03/2020
Close to perfect
I love this mask, and it's probably the one I feel safest wearing. The material is a high quality, and while it's not thin, I find it very breathable. If the center seam aligned a little more closely with the bend in the nose piece, it would be perfect.
Anonymous
United States